Testimonial
"Thank you for an absolutely wonderful field trip exerience for our fourth grade classes. Our study of California Gold History came alive"
- Linda G. Millhollin - Teacher -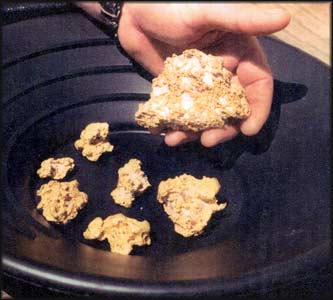 Teachers, Email us Today!
Email us today to recieve your free visit to jimtown 1849 mining camp and we will even ship your class some free gold straight from our gold mine.

Yesterday is Just Down the Road
For over 40 years Gold Prospecting Adventures has offered an exciting variety of gold mining adventures. We know (and will share) the real secrets of successful prospecting. And the gold is here, participants have taken out over 300 ounces of gold from the one hole at our Jimtown 1849 Gold Mining Camp.
Whether you are a family looking for a fun and interesing way to spend a few hours on your way to Yosemite, a real adventurer, seeking the true secrets to successful prospecting, or a group organize, planning your next tour. we have the trip for you.
Be our guest, come to Jamestown, live the adventure and take home some gold.

Is There Any Gold Left in California?
You bet there is! According to the Gold Institute less than 2 million ounce's of gold wre mined during the height of the California Gold Rush in 1849. By comparison, 10.6 million ounces were found in the U.S. in 1993.